Luxury Horse Box Bar & Café

The Fabulous Filly "Fenella" is a vintage Richardson Rice horsebox that has been lovingly converted into a luxury mobile bar & café. We are mobile and available to hire. We can be hired as the "mane" star of your event, or as a unique addition.
We will work closely with you to create the perfect alcohol or coffee bar package to suit your budget. We cover all kinds of events, from gender reveal parties to end of life celebrations, and all the special occasions in-between. Whether your event is small and intimate like a nano wedding, or large scale like a festival, Fenella and her beautiful vintage accessories and props add the wow factor. 
We provide a fun, friendly and professional service.  We are fully licensed and insured. We are trained and certified mixologists, cocktail menu creators and coffee baristas. We are based in Surrey serving London & The South but will travel nationwide for large events.  
If you would like to hire Fenella for your event, please contact us.
Fenella is a fabulous grey Arabian filly, owned by a friend. 
When my friend, put Fenella's old horse box up for sale, I randomly decided to buy it. I was watching Virgin River at the time and loved Paige's Bakery Truck. I knew nothing about horse trailer conversions but with years of bespoke event experience from weddings to high-end charity gala's, I loved the idea of starting my own business.
After six months of research and learning, plus designing the conversion to match my vision, Fenella's horse box is now a luxury horse box bar & café. I've also teamed up with two business partners, sister Sharon and family friend Stacey, who have hospitality and event experience.
Sister Sharon is my actual sister and not a nun – she loves to plan a party and have a good time, as did our late parents. They would have said "don't be so ridiculous" about the idea but they would have enjoyed all the fabulous events. 
Fenella is fabulous, so the name was easy! 
Donna x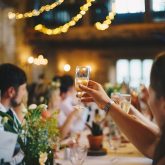 From gender reveal parties to end of life celebrations, and every special occasion in-between.
From firework nights to community fayres and festivals.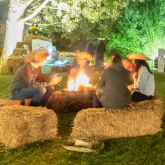 Corporate Event & Dry Hire
From company celebrations to VIP areas and product launches.
Dry hire for event organisers and companies to use our fabulous structure as your own.